Do you like train stations? I do.  Baltimore has retained most of our historic train stations, and several of them have been the focus of adaptive reuse projects. Other cities haven't been so lucky. Check out these train stations across the country which have been demolished.  The most notable, Pennsylvania Station in New York City, was a city within a city, a grand Beaux-Arts building which was senselessly demolished in 1963 to build Madison Square Garden and a dank underground depot. We knocked a lot of good stuff down in America in the 20th Century, but this takes the cake.
While our Penn Station leaves something to be desired, it beats the alternative: the Camden MARC station. If you want people to get out of their cars, you have to treat them with respect, and the Camden MARC station fails to do this. Today's guest post comes from my friend Scott Adams, a daily MARC commuter, urban planner, and concerned citizen.  In this scathing critique of the Camden MARC station, Adams asks the question that many people do while waiting for transit at inadequate facilities; Why, God, oh why?
——————————–
By Scott Adams
How did we go from this?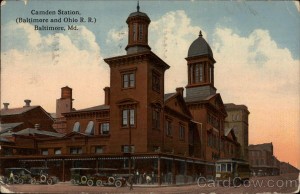 To this?

Today's Camden Station is more like a temporary construction-site office, in a trailer, than a permanent train station serving as a symbol of civic pride.
As a daily MARC rider, here's some issues I have with the station:
Ticket Machine(s)
Why is there only one ticket machine?  I'm lucky to have a monthly pass, but too often, I see single-ticket users backed up at the ticket machine, sometimes right before the train's departing.
There needs to be better wayfinding directing people to the ticket machine inside the station waiting room.  I've directed several new riders (tourist, day-trippers, etc.) to the ticket machine after seeing them looking around confused or …
Standing at the MTA ticket machines, confused as to why they can't buy MTA tickets for an MTA service.  I know, I know – MARC is technically run by CSX on the Camden Line, Amtrak on Penn Line, but it's an MTA service.  Isn't there a way to have MARC tickets available from MTA ticket machines that cover bus, metro and light rail?  What's one more mode?
Why does the ticket machine not take cash?  I've had to regrettably tell new riders, asking about cash-only, that CSX crew members will charge them $3 extra if buying a ticket on the train. What gives with the $3 surcharge on a $6 or $7 ticket?
Station Amenities
There's only one toilet, which isn't noted with any sign, etc. But hey, at least there IS a bathroom – public transit systems without them (this means you, rest-of-MTA Metro/LRT stations, plus DC Metro) are barbaric in my view.  If the system's built for human beings, then build it for human needs, like BATHROOMS.
The only place to sit down is on a series of benches tucked out-of-view on the station's western side.  Why not put a few benches on the southern side, where they're visible from the street and approaching trains?
The station's "roof" (heavy-duty vinyl panels stretched between structural steel supports) is a joke when it rains.  All the "roof" openings allow water to drip in on passengers that are making the rational assumption that a roof overhead will keep them dry.
Overall, if Camden MARC Station is intended to be permanent, then put up a station that denotes permanence.  Laurel, and especially Dorsey, are stations to emulate if Camden Station ever gets rebuilt from a temporary/afterthought building to an architectural symbol of civic pride and meaningful transportation alternatives.