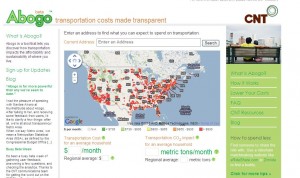 A few quick links: Abogo.cnt.org is a new site that uses census data to calculate your transportation costs anywhere in the country.  It's based on housing density rather than neighborhood amenities, though – maybe someday they can merge their system with walkscore.com for a more accurate picture of transportation costs.
Stick2Target, a Portuguse street art blog, has a funny "eyes on the street" post about little old ladies.
Planetizen shows some gondolas, or Cable Propelled Transit (CPT), in South America. Hey, if South America brought us Bus Rapid Transit, why not cable cars too?
And finally, an excellent series about walking in L.A. from good.is