On Sunday I took the light rail to Hunt Valley to pick up a few things. It was the first time I took the light rail beyond Mt. Royal station. Besides the obvious problems on Howard St. which have been discussed ad nauseum (there was also a multi-agency strategic plan done for the corridor last year), a few small things became apparent.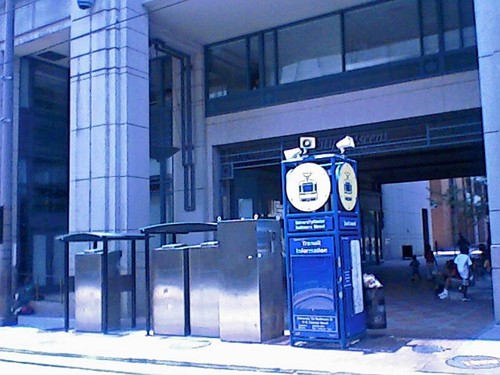 The location of the ticket machines on Redwood Ave, for instance. Redwood is probably the nicest east/west street in the westside. There's also a walkway through the 22 S. Howard St. building connecting the light rail station to Redwood St. This could of been a good visual connection between Redwood and the light rail station. Unfortunately, an army of ticket booths gets in the way.
Rearranging the machines parallel to Redwood (and underneath the building's roof) would have probably required a private property right of entry agreement. I think it still would be a worthwhile thing for MTA to pursue. Improving the visual connections between the transit system and downtown streets is a low-cost, high-impact way to make the light rail system seem like it's integrated into the city and not just an after-thought. MTA is making headway on this issue with the relocation of the Lexington St. Market light rail station one block north – thereby reducing the distance between the Metro and light rail stops to one block.
While downtown, I also saw these: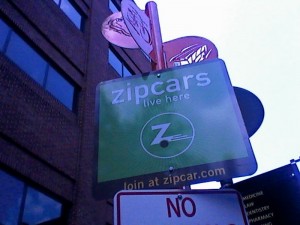 Zipcar will be expanding downtown. Since quoting schedules usually gets me in trouble, I'll wait for the Parking Authority to make the official announcement about when the rollout will begin. I've been concerned about grocery shopping without having a car, so this will definitely help.
And finally, another interesting bike ride – Clinton St. along the docks. Seeing these ships and old warehouse buildings up close reminds you that most big east coast and midwestern cities were built on manufacturing. The families, houses and neighborhoods came with the jobs, and these jobs created a middle class which was virtually non-existent in the 1800s. From north to south, Clinton St. is a microcosm of the city's economic transition over 100 years.

View Larger Map