Ever get the feeling that people aren't driving as much as they used to? CEOs for Cities compiled national Vehicle Miles Traveled (VMT) data which shows the usual post-recession "bounce back"  is not happening this time. You can see their graphs here. With a struggling middle class which was hit especially hard during the last recession, fewer people can afford to keep paying for gas, insurance and repairs on a depreciating asset. Even if you're living in a place which requires a car, maybe you're driving less and making shorter trips to cut costs. It makes sense.
On a local note, State Highway data shows flat and gradually declining VMT levels in Baltimore City, depending on what types of roads you look at. According to SHA's data, on average, Citywide VMT has grown 0.08% annually over the past 15 years and is up a total of 1.09% during that time. Non-Freeway VMT (which makes up about 95% of our street network) has gone down an average of 0.47% annually over the past 15 years and is down a total of 6.5% during that time. Assumed VMT growth rates used in traffic models is usually 1%-2% annually, but according to SHA's data, this assumption wildly over estimates future volumes.
The State Highway data may not be completely accurate, but their numbers are showing volumes in the City to be consistently flat or declining, especially on neighborhood streets. This clearly isn't representative of all communities or intersections within the City, but it may be representative of VMT citywide.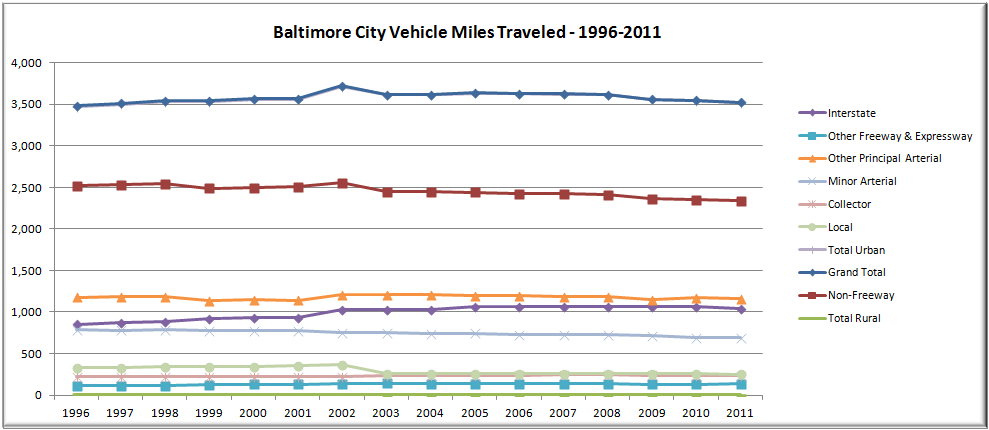 On the other hand, from all measures bike ridership is growing dramatically. Bike counts at Guilford & Mt. Royal and Aliceanna & Broadway show ridership up 100% and 60% since Spring '09 and Fall '10 respectively. Bike to Work Day registrations are up 347% over the past five years, and Census data shows bike commuting in Baltimore up 228% from 1990 to 2011, and up 104% from 2005 to 2011. The absolute numbers are still relatively small, but the increases have been dramatic and consistent.
So, if someone is looking for empirical reasons to invest in more biking infrastructure, complete street alternatives, and transit, there you have it.